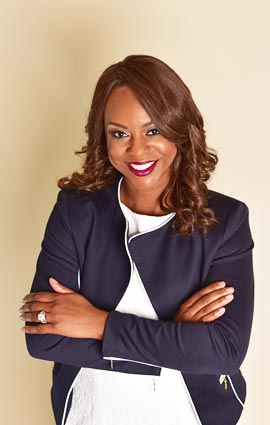 As an adoptive mom and woman who has struggled with infertility I know that the options for expanding your family can be overwhelming. Johnson Dorsey Law Firm considers itself a "Family Planning" law firm, helping to build families with warmth, compassion and a personal touch. My personal experiences with adoption and infertility have made me a better advocate and legal professional ready to help you navigate through the process. I am committed to listening to your concerns and working with you to find the best way for you to build your family. It is my goal at Johnson Dorsey Law Firm to help you with all your "family planning" needs. Additionally, we can help you safeguard your family with proper planning for the future with our Estate Planning Law practice.
I grew up in a family that grew and shrunk on a regular basis.  My parents became foster parents when I was 11 and have been foster parents for over 20 years. Foster care has impacted my life in profound ways thus my focus towards family law came naturally. Growing up surrounded by foster siblings and witnessing them flourish, while at the same time seeing the hurt they endured I developed a deep level of compassion and understanding for the importance of family.  This personal experience has intensified my passion to see children protected from rejection, abandonment and hopelessness.I believe the opportunity my parents provided me through foster care gives me a unique and personal perspective towards family.
I am committed to providing affordable legal services and therefore often charge less than our competitors. What we do at Johnson Dorsey Law Firm isn't just a job. It is who we are. Johnson Dorsey Law Firm has narrowed its practice to Adoption Law, Assisted Reproduction Law (surrogacy, egg donation and embryo adoption) and Estate Planning Law.
Trina Johnson-Dorsey is an attorney who is licensed in the state of Texas. She graduated from the University of Houston with a Bachelors of Science Degree in Sociology with a minor in Corporate Communications. She then went on to earn her Juris Doctorate degree from Texas A&M School of Law. Johnson Dorsey Law Firm has offices in Dallas and Forney but works with clients all over the state of Texas.
Trina sits on the Board of Directors for The Council on Adoptable Children of Texas and currently serves as the Legal Representative. She is also a Professional member of Families for Private Adoption, a Professional member of the National Infertility Association and member of the Texas Bar. She also volunteers for the Dallas Volunteer Attorney Program.
Trina is married to Darryl Dorsey and they have three sons and one daughter.  They live in the Dallas-Fort Worth area.  Trina enjoys traveling, reading, getting uninterrupted sleep which hasn't happened in 3 years, hiding from her children in the closet while eating ice cream, adventures with her kiddos, and date nights with her husband.
Dallas Office
2711 North Haskell Avenue
Suite 550
Dallas Texas 75204
Phone : 469-600-8761 or 800-532-6109 (Toll Free)
Fax : 214-540-6618
Email : info@johnsondorseylaw.com
Forney Office
107 South McGraw
Forney, Texas 75126
Mailing address : P.O. Box 985 Forney, TX 75126
We accept the following credit cards :