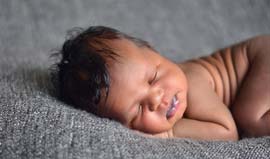 Expanding your family through assisted reproductive technology has increased drastically over the past decade. Fertility related issues can be both emotionally challenging and legally confusing. With personal experience dealing with infertility, Trina will listen carefully to you and be sensitive to the experience you and your family are going through. When an individual or couple is unable to conceive, carry or birth a child there are a number of options available to the intended parent(s). At Johnson Dorsey Law Firm we support individuals and couples navigating through the complicated issues of deciding to be an egg donor, a sperm donor, a surrogate or embryo donor. We encourage all parties to speak with an attorney and obtain the proper legal representation before beginning this process so that your rights are most protected. Trina is a professional member of the National Infertility Association and is ready to advocate for your best interest through your journey.
Reproductive Law Services Offered
Validation of Gestational Agreements by Texas Courts
Intended Parent Legal Representation
Egg Donor Legal Representation
Gestational Surrogate Legal Representation
Drafting Surrogacy Agreements
Drafting Egg Donor Agreements
Drafting Sperm Donor Agreements
Drafting Embryo Adoption Agreements
Review and Negotiating Sperm Donor Agreements
Review and Negotiating Egg Donor Agreements
Review and Negotiating Surrogacy Agreements
Review and Negotiating Embryo Adoption Agreements
Establishment of Parentage (Pre birth and Post birth)
Surrogate Advice (helping Intended Parents find an agency to work with)
---
Surrogacy :
Surrogacy has become a means for couples and single people, known as intended parents, to expand their family. As a "Family planning" law practice we at Johnson Dorsey Law Firm are ready to assist you during your surrogacy journey. In gestational surrogacy, the surrogate carries and gives birth to a baby created with an egg and sperm from the intended parents. A surrogate could also carry an embryo created from a donor egg and/or donor sperm. A gestational surrogate has no biological relationship to the child she is pregnant with. After the child is born, the gestational surrogate immediately surrenders the baby to the intended parents.
Involving a lawyer early in the process is critical. Once the intended parents and gestational carrier are matched they enter into an agreement that specifies responsibilities and obligations of each party as well as their agreements and intentions.
Even though Johnson Dorsey Law Firm is located in Texas, we work with intended parents and gestational surrogates from states all over the country that have legal matters in Texas. This would include the possibility that the gestational surrogate is a resident of Texas or is planning on delivering the child in Texas
---
Egg or Embryo Donation Agreement :
Many families rely on donated eggs, sperm, and embryos to expand there family through pregnancy. Becoming a donor is a great act of generosity. Donors may be known to each other or may remain anonymous. It is important, especially when using a known donor that you obtain the proper legal representation so that your rights are protected. Egg, sperm and embryo donation agreements are extremely important for both the donor and recipient. This agreement should address all legal issues related to the donation and protect each party's rights and responsibilities prior to any donation or transfer taking place.Johnson Dorsey Law Firm will give you quality legal advice and educate you of the risks and expenses involved in egg donation and embryo adoption.
Johnson Dorsey Law Firm finds it crucial that donors providing embryos for adoption and would like to maintain an open adoption should also seek independent legal counsel to review their agreement. Understanding that each situation is different, Trina ensures that the agreement is tailored to fit the needs of both the donor and intended parents.
Dallas Office
2711 North Haskell Avenue
Suite 550
Dallas Texas 75204
Phone : 469-600-8761 or 800-532-6109 (Toll Free)
Fax : 214-540-6618
Email : info@johnsondorseylaw.com
Forney Office
107 South McGraw
Forney, Texas 75126
Mailing address : P.O. Box 985 Forney, TX 75126
We accept the following credit cards :