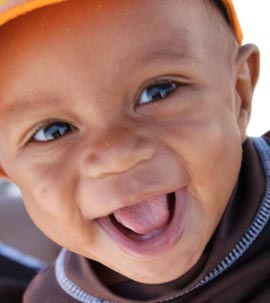 One of the most wonderful things you can do is adopt a child. While adopting a child is exciting, it is also a major legal commitment. At Johnson Dorsey Law Firm we pride ourselves in growing families through adoption.  Trina strongly believes in the spirit of adoption and is passionately committed to helping build families through the process of  adoption.

Trina is prepared to help you navigate through the adoption process.Additionally, with her service oriented attitude, you will get the attention your case deserves. Trina offers comprehensive legal services for virtually every legal matter related to adoption and the well-being of newborns and children.Whether you are pursing adoption to expand your family or are a birth mother placing your child for adoption, Trina is committed to listening to your concerns and help you navigate through the process.As an adoptive parent with firsthand experience, you can trust Trina with one of the most important decisions of your life.
We offer our experienced legal assistance for a variety of adoption issues, including the following:
AGENCY ADOPTION
If you are considering using an adoption agency for your adoption, Trina may be able to help you. It is imperative that you exercise your own due diligence when selecting an agency to work with. Johnson Dorsey Law Firm can assist you with reviewing agency contracts and ensuring you fully understand what you are signing. Trina can guide you through the adoption process including helping you find an agency to work with.
---
CPS/ FOSTER PARENT ADOPTION
If you are seeking to adopt your current foster child or a child in CPS custody we can help you with finalizing all of the necessary paperwork
As a CPS approved adoption attorney, if your adoption is approved for subsidy, we are able to complete your adoption without any out of pocket expense paid by the family. We are able to directly bill CPS for subsidized adoptions.
---
PRIVATE/INDEPENDENT ADOPTIONS
In private adoptions, prospective adoptive parents adopt directly from the biological parents. An advantage to private adoptions is that they generally are less costly. By eliminating an adoption agency, adoptive parents can save thousands of dollars. The great thing about private adoptions is that the prospective adoptive parents take an active role in locating their future child. If you have already located a birthmom who has decided to place her child for adoption, private adoption is your answer.
---
INTERSTATE ADOPTION (ICPC)
If the prospective adoptive family or the birth family lives in another state other than Texas, you must comply with the Interstate Compact on the Placement of Children (ICPC). ICPC requires the state where the adoptive family lives and the state where the child is born to both approve the baby crossing state lines. In an interstate adoption the baby must remain in the state she or he was born until both states approve the baby crossing state lines. It is critical that you hire an attorney with experience with ICPC.
---
STEPPARENT ADOPTION
Stepparent adoptions enable a stepparent to formally and legally recognize their parental relationship with their spouse's child. At Johnson Dorsey Law Firm we can help you through each step of your stepparent adoption, such as obtaining the consent of a non-involved parent.
---
ADULT ADOPTION
Adoption of a person over the age of 18 is legal in the state of Texas. Adults may adopt adults to establish and formalize a legal parent-child relationship
---
RE-ADOPTIONS/VALIDATION OF FOREIGN ADOPTIONS
Did you know that Texas provides for validation of your child's Foreign Adoption? If you have adopted a child from another country you are permitted to "re-adopt" your child in Texas. Texas fully recognizes foreign adoptions with the full validity of a natural-born child. International adoption can pose many legal difficulties for adoptive parents. At Johnson Dorsey Law Firm we can help you navigate the process of validating your foreign adoption.
---
RELATIVE/KINSHIP ADOPTION
There are many circumstances that may open the door to a relative adoption. If a biological parent is unable to care for a child, a relative may seek to become the child's guardian or adoptive parent.
---
BIRTH PARENT REPRESENTATION
Making the decision to place your child for adoption can be a difficult and emotional decision. At Johnson Dorsey Law Firm we provide representation to birth parents to review their consent to the adoption or affidavit of non paternity. It is imperative that you understand the legal consequences of what you're signing. Our goal is to help a birth parent make an adoption plan which is made freely, voluntarily and with full understanding of the consequences and effects of the adoption consent. We recognize the decision to place your child for adoption is not an easy decision to make. Trina believes that every birth parent should be fully advised on their legal rights under Texas law.
---
OPEN ADOPTION
Texas law does not recognize open adoption contracts. However, adoptive parents can agree to stay in contact with the birth parents. There are many different options for an open adoption. The frequency and type of contact can range from sending a picture of the child to the birth parents once a year to the birth parents having visits with the child once a year.
---
PLEASE NOTE: Johnson Dorsey Law Firm does not assist in matching children with prospective adoptive parents. Johnson Dorsey Law Firm only provides legal services to parents who have already identified the child or children they wish to adopt. In Texas it is not legal for attorneys to locate a child for the adoptive parents.
Dallas Office
2711 North Haskell Avenue
Suite 550
Dallas Texas 75204
Phone : 469-600-8761 or 800-532-6109 (Toll Free)
Fax : 214-540-6618
Email : info@johnsondorseylaw.com
Forney Office
107 South McGraw
Forney, Texas 75126
Mailing address : P.O. Box 985 Forney, TX 75126
We accept the following credit cards :